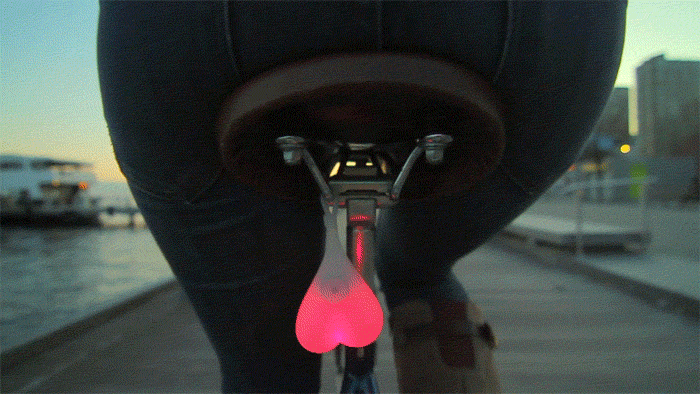 Bike Balls
The original Bike Balls, with improved design!

Bike Balls naturally bob-around while you ride, boosting your visibility and safety in a hilarious way.

Features a new mounting loop that effortlessly attaches on the back of your bike seat (or backpack, tent, stroller, almost anything!)

Built for rough riding - water / splash resistant construction.

Gently squeeze Bike Balls to turn the light on and switch between the solid/flashing modes. Gently squeeze again to turn the Bike Balls off.

1-year hassle-free warranty.
---------------------------------------------------------

Prices are in USD.

Ships within 1-3 business days

Due to an unforeseen warehouse issue, we are currently only shipping within the United States only.

Please visit our FAQ for more information regarding shipping.
---------------------------------------------------------
sale
"It takes grit, wit, and balls to ride so show 'em what you got!"
As cyclists who regularly ride in the city, we are vulnerable to distracted and neglectful drivers. We wanted to do something to change that and have some fun while doing so. Bike Balls are more visible and noticeable than your average bike light, making you more safe and confident as you ride through the city streets. Bring some humour to your daily commute and bring a smile to even the most disgruntled driver with your illuminated light-sack.
 
Other Details:
High-grade silicone body with integrated strap and on/off switch
Single red LED with three light modes - solid / slow flashing / fast flashing
360-degree glow
Includes batteries (2xCR2032)
RoHS / CE Approved
Installation Instructions:
Wrap the silicone loop around a seat rail and then pull the body through the loop. We've designed this mounting system to be secure enough to stay on as you ride through the city, while at the same time being easy to put on and take off.
How to Clean Your Bike Balls
Wipe surface with a damp cloth, do not submerge Bike Balls in water.
How to Change the Batteries
When performance starts to fade, follow the instructions below to replace the batteries:
Bend silicone back.
Pull out LED module.
Remove cover on LED module. Replace batteries with two new CR2032 battery cells, ensuring that the positive (+) and negative (-) terminals are facing as illustrated above. Install cover back on LED module.
Bend silicone back.
Insert LED module back into place.